I promised I'd do this. At a family gathering about a month ago, my uncle Famy who had read my earlier entry on
Stories From The Holy Land
, pointed out that I had missed out two important scenes/incidents that happened during our umrah trip in May. Both were equal in hilarity and will forever be etched in our minds.
A Fetish For Chicken Mandi
When we were in Mecca, most of our meals were taken at the hotel. Breakfast, lunch and dinner were simple meals eaten within the confines of our small dining area, in the company of other umrah performers.
In was not until the third day in Mecca, that we ventured out to the more modern, swanky and upscale area of... Hilton Hotel. We had completed our second umrah just slightly after noon and instead of returning to our hotel we decided to stay close to the vicinity of Masjidil Haram and wait for Asr. Since we had not eaten lunch yet, we walked across to Hilton in search of some grub and soon found ourselves at Al Tazaj - a takeaway restaurant that specialised in Arab cuisine.
Hubby and uncle soon placed our order, guided by the colourful menu displayed behind the counter. Feeling slightly adventurous, they bought an array of delectable dishes which included pitta bread , salads and savoury rice. Since it was a takeaway restaurant, we discovered there were no tables and chairs to be seen anywhere at the establishment. What we did notice though, were several small Arab families sitting on the floor enjoying their own Al Tazaj takeaway meals...and they looked quite comfortable doing it too!

So throwing caution to the wind, we too found ourselves sitting cross-legged on the floor. Me and an aunt still garbed in our telekung whilst hubby and uncles in their ihram- oblivious to our surrounding as we dug into the delicious Chicken Mandi and Chicken Kabsa. None of the Arabs gave us a second look. But we did see some eyebrows raised from fellow Malaysians, who must have thought we were bonkers for doing so. Very unMalaysian we were I'm sure, but as the saying goes "When in Rome, Do as the Romans Do".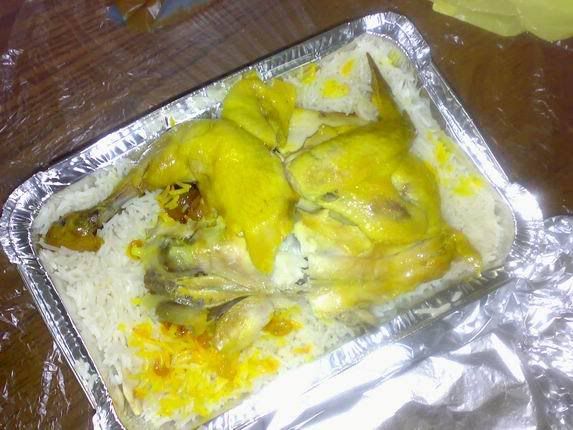 Chicken Mandi - my favourite!



The Golden Lounge
Another memorable incident was at Jeddah just hours before we flew home. We were at the airport and discovered that there weren't that many seats available for us while we waited for our flight. The only place vacant was the curb which eventually became the parking area for several families. Hence dubbed our Golden Lounge. And like many other Golden Lounges, it would be incomplete if it didn't have the prerequisite beverages and snacks for weary travellers like us. And ours came in the form of a very friendly Indian man who pushed a trolley laden with the necessary cold fizzy drinks, hot coffee/tea and confectionary galore. Though we didn't get our teh-tarik... there was still enough supply of drinks and tidbits to kick-off Uncle Famy's 4?th birthday at midnite.



A novel way of getting the tea to be frothy minus the "tarik"



So we may have not had the luxury of Hilton, nor received the Golden Lounge treatment, but in the company of those we love and enjoy, the experience and moments shared (even if they involved sitting on hard floors) are without a doubt priceless and meaningful to us in more ways than one. This simply justifies the old adage that It is not where you are that's important, but who you're with.... or something like that ;)