It's quite common to come across funny signs when we travel. Sometimes it's in the spelling, sometimes it's in the play with words and sometimes it's in the message itself. Here are some examples that I found in the Net.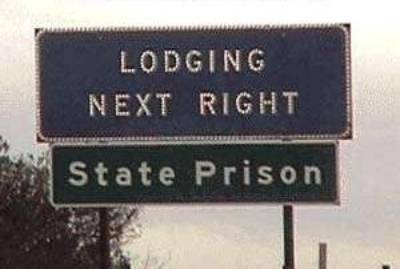 When I was in Edinburgh, in my 3rd year university, a group of friends and I went north of Scotland to spend our Xmas break. The holiday was most memorable for several reasons; the convoy journey that was made in my friend's second hand VW Jetta, the 20 frozen chickens that were packed in a cooler which were to last us for a week and the many unplanned stops made along the way as we struggled to read the map in the darkness of winter. And it was during our travels that we would come across some funny Scottish signs. Perhaps one that strikes my mind is a sign for a small town which read "

GOSTAN – 2 kms

". My friend the driver, P, simply couldn't resist stopping the car and insisted that we took a picture of him standing underneath the sign in the freezing cold. I think you and I can easily understand the significance and hilarity of such a word!

Well a couple of weeks back, my hubby and I met his friend who happened to be on his way to put up a "No Trespassing" sign on his vacant land. Apparently people have been trespassing and even dumping rubbish on his property. Not one to put up with all these nonsense, he customized a special sign which was Big and Bold indeed! When I read what was written, I just couldn't stop laughing. You have to be a person like A, with his strange sense of humour, to be able to come up with such gems.